Monthly Calendar: August & September
Sunday, August 27, 2023 by Kara Hess | Studio News & Updates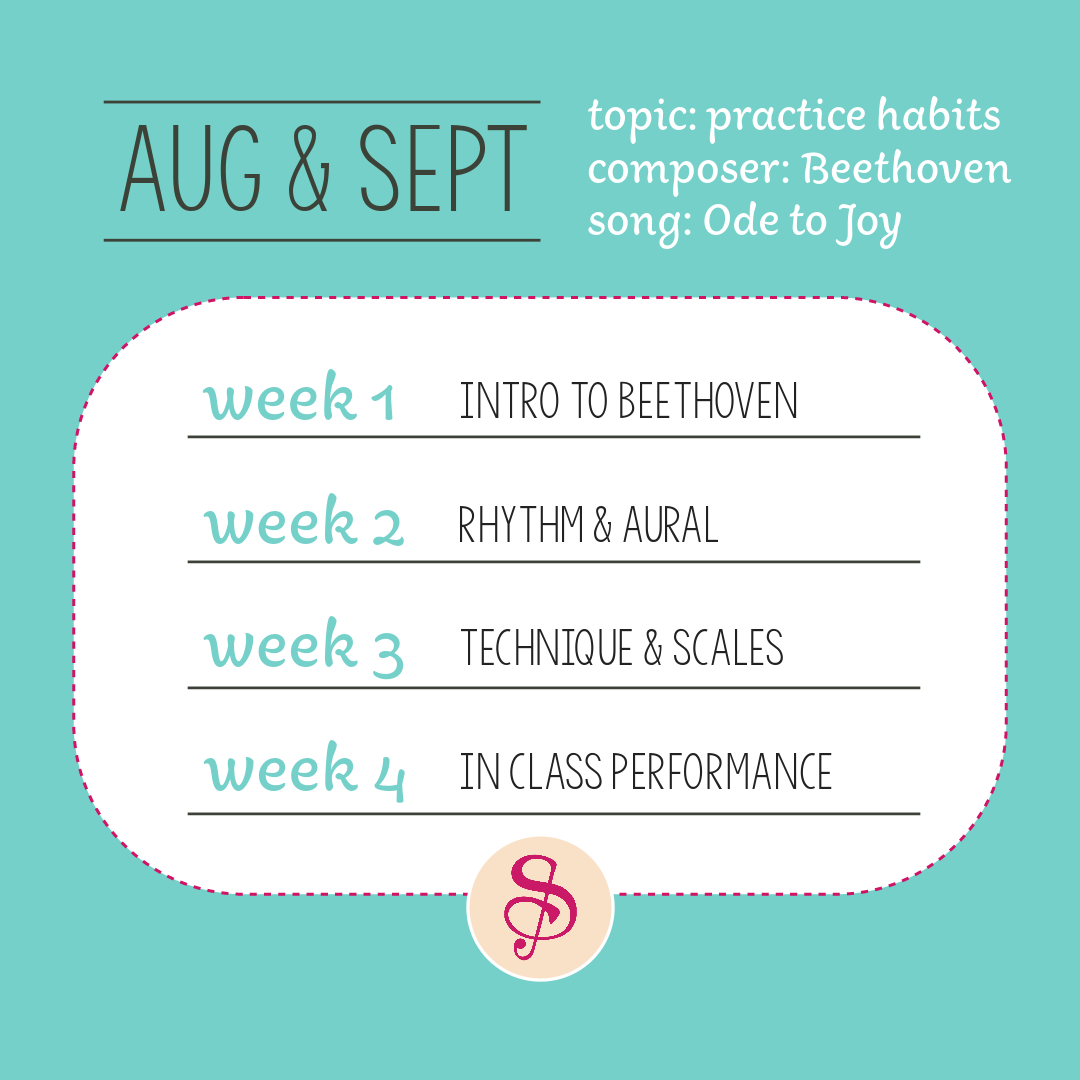 Lessons begin this upcoming week!
Here is a quick look at what we are doing this month.
Can't wait to get started!
Introducing the 2023-24 Piano Year!
Wednesday, August 2, 2023 by Kara Hess | Studio News & Updates
WHAT'S NEW??
I'm so excited to announce the exciting new things I am implementing in my studio this year! If you've been with my studio for any length of time you know that I am always trying to keep things exciting and this year is no different! Here is a list of things you can expect to see coming this fall as lessons begin!
Online Registration: I am going strictly online with registration this year. You will be getting a text from me with information about this. In a nutshell, everything you need to know/do to register will be on my website. This includes my policy updates for the 2023-24 and the links needed for registration.
Studio Party: Beginning this year we will have an end of year piano pizza party for students and families. More information will be coming as it gets closer.
Detailed Studio Calendar: I will be posting a calendar to my website with details about what is going on in the studio for any given week. It will also list all studio holidays and days of scheduled lessons. My calendar will coincide with Davis School District's calendar but will also include other days when lessons will not be happening. I will be adding these calendars to the student practice books so each student will have a copy.
Recital Prep/Student Labs: I have set aside several days leading up to the spring recital for scheduling focused one on one time with me. These special student labs will be for students who would like extra time preparing their recital piece or to catch up on any other piece that a student has questions about. They will be 30 minutes in length and you can sign-up for them on the website. This will be especially helpful for my group students but can also be for my private students who would like extra focused time to learn. These labs will be offered at no extra charge. More information will be forthcoming.
Scheduled Periodic Assessments: I will be administering assessments four times this year. The assessment dates will be on the calendar. These assessments will be done in lessons and will help me monitor student progress so that I can be more affective in my teaching. It will be exciting for students and parents to see the progress that is being made!
Multi-Level Group Lessons (ages 8-14): I have purchased a curriculum this year that will make teaching group lessons with different leveled students a greater success. In the past I have separated the groups into levels and tried to reach each child as they progressed at different rates. With this new curriculum I can teach all levels in one class, making scheduling easier on my students and families as well as meeting the needs of each student much more affectively. I am so excited about this and think it will really make for fun and engaging group lessons for all of my students! (Lessons for students younger than 8 and older that 14 will continue as they had in the past).
There are several other things that are new this year but these are the most exciting updates! Please read the policy document carefully for more detailed information about the studio this year.